Product Description
SG7-8 Single plate springs clamp type flexible disc couplings 
 
Product Description
Item No.:
Features:

excellent response and high torque capacity;
Zero backlash disassembly easy;
stainless steel plate springs absorb parallel disaligment and shaft end-play;
identical clockwise and anticlockwise rotational characteristics;
bellows material: stainless steel;
clamp type;

Specification:

Material: Aluminium Alloy;
Finish: Sandblasting Anodizing;

Application:

Used for transmitting power in kinds of mechanical equipments such as blower fan, pump, chemical industry, petroleum, metallurgy;

Delivery:

Common Product, inquiry is welcome;

Remark:

the moment of inertia and the weight is calculated according to the maximum shaft hole;
Bore dimensions can be customized;
 Product Picture

Drawing: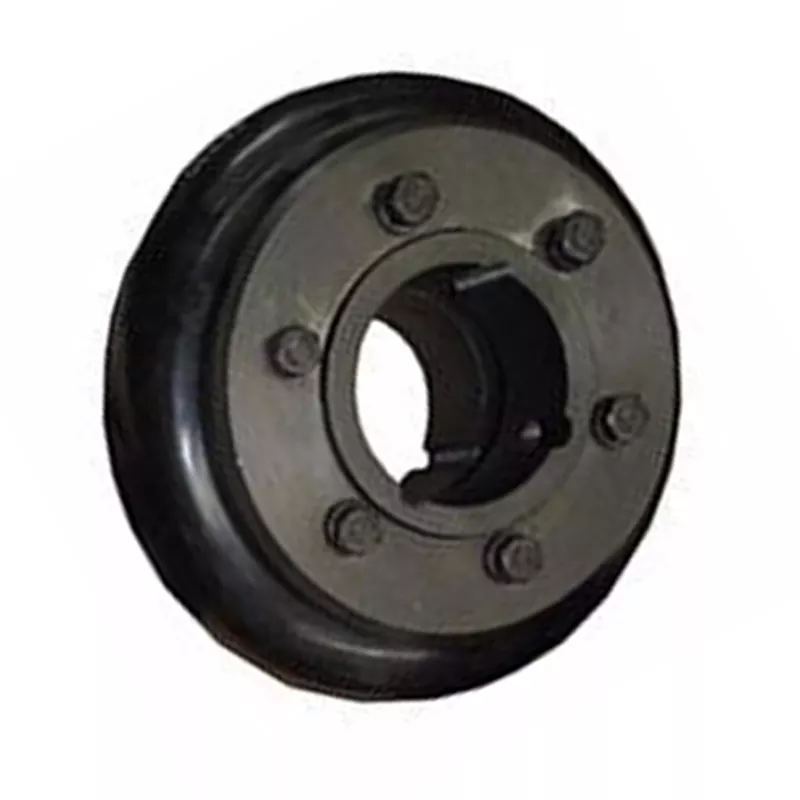 How do flexible couplings handle shaft misalignment in rotating equipment?
Flexible couplings are designed to handle shaft misalignment in rotating equipment, providing several key features that allow them to accommodate misalignment effectively. Here's how they work:
Angular Misalignment: Flexible couplings can handle angular misalignment, which occurs when the axes of the connected shafts are not perfectly aligned. The coupling's flexible elements allow for slight angular deviation, ensuring that the torque can still be transmitted smoothly between the shafts.
Parallel Misalignment: Parallel misalignment occurs when the connected shafts are not perfectly in line but run parallel to each other. Flexible couplings can compensate for this misalignment by utilizing their ability to flex or slide, allowing the shafts to remain connected while maintaining rotational integrity.
Axial Misalignment: Axial misalignment refers to the situation where the connected shafts have a slight axial displacement. Some flexible couplings have specific designs to handle axial misalignment, allowing for limited movement along the axial direction without compromising the connection between the shafts.
Double Flexing: Certain types of flexible couplings, such as the double-flexing couplings, can accommodate both angular and parallel misalignments simultaneously. These couplings use two sets of flexible elements to achieve this capability, providing a higher degree of misalignment compensation.
Overall, the flexibility of the coupling's material and design allows it to bend, flex, or slide in response to the misalignment, reducing the stress on the connected equipment and ensuring smooth power transmission. By accommodating misalignment, flexible couplings help prevent premature wear, reduce vibration, and extend the service life of the rotating equipment.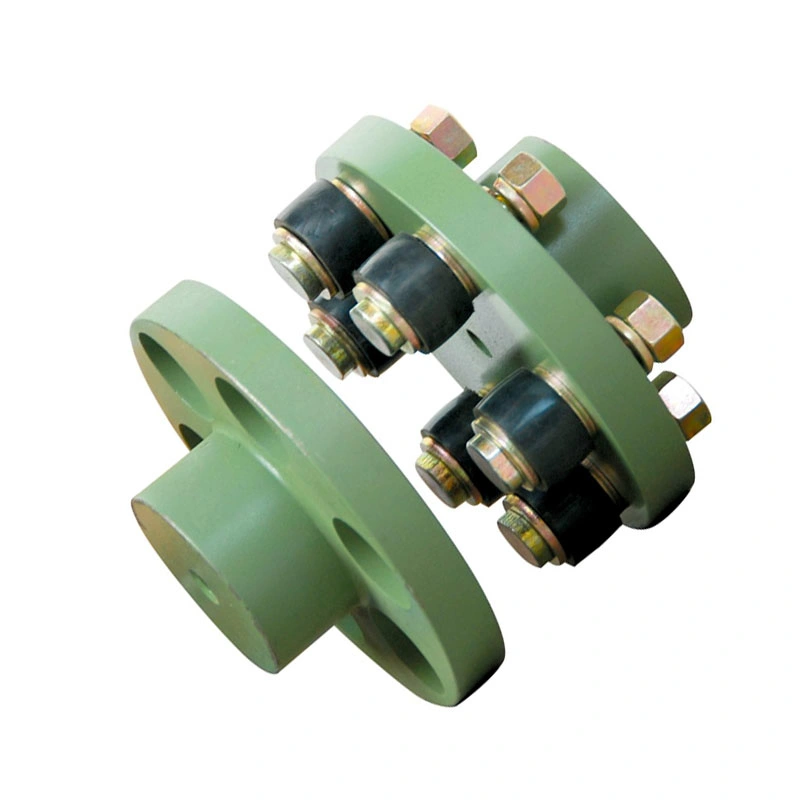 Can flexible couplings be used in the aerospace industry for critical applications?
Flexible couplings can be used in the aerospace industry for certain critical applications, but their usage is limited and carefully considered due to the stringent requirements and safety standards in the aerospace field. Here are some key points to consider:
Specific Applications: In the aerospace industry, flexible couplings are primarily used in non-flight-critical systems or non-safety-critical applications. They are commonly found in auxiliary equipment, ground support systems, and non-flight propulsion systems.
Weight and Space Constraints: Weight and space are crucial factors in aerospace applications. Flexible couplings must be lightweight and compact to minimize the impact on the overall weight and size of the aircraft or spacecraft.
High Reliability Requirements: Aerospace systems demand high reliability and fault tolerance. Flexible couplings used in critical applications must meet stringent reliability standards and undergo rigorous testing and certification to ensure their performance under extreme conditions.
Material Selection: Aerospace-grade materials are necessary to withstand the demanding environment of aerospace applications. These materials should have high strength-to-weight ratios, corrosion resistance, and excellent mechanical properties to handle the stresses and forces experienced during operation.
Certifications: Flexible couplings used in the aerospace industry must adhere to specific certifications and standards, such as those set by organizations like the Federal Aviation Administration (FAA) in the United States or the European Union Aviation Safety Agency (EASA) in Europe.
Redundancy and Safety Measures: In critical systems, redundancy and safety measures are paramount. Flexible couplings used in aerospace applications must be designed with redundancy features to ensure the system's continued functionality in the event of a failure.
Temperature and Environmental Considerations: Aerospace systems experience a wide range of temperatures and environmental conditions. Flexible couplings must be able to operate reliably in extreme temperatures, high altitudes, and other challenging environments encountered during flight or space missions.
While flexible couplings have their place in certain aerospace applications, flight-critical and safety-critical systems typically rely on rigid, precision-engineered couplings. These rigid couplings offer higher levels of torque transmission and precision but require careful alignment and installation.
Ultimately, the selection of flexible couplings for aerospace applications must undergo a thorough engineering evaluation and be approved by the relevant regulatory authorities to ensure the highest level of safety and performance in critical aerospace systems.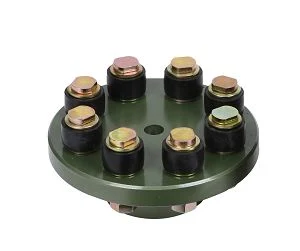 Can flexible couplings be used for both motor-to-shaft and shaft-to-shaft connections?
Yes, flexible couplings can be used for both motor-to-shaft and shaft-to-shaft connections in various applications. The versatility of flexible couplings allows them to adapt to different types of connections and meet the specific requirements of the system.
Motor-to-Shaft Connections:
When connecting a motor to a shaft, a flexible coupling serves as an intermediary component that joins the motor shaft and the driven shaft. Flexible couplings are commonly used in motor-driven systems to accommodate misalignment between the motor and the driven load. In motor applications, flexible couplings help reduce stress and wear on the motor bearings, thus extending the motor's life and enhancing overall system reliability. They also act as vibration dampeners, minimizing vibrations transmitted from the motor to the driven shaft, and subsequently to connected equipment, ensuring smoother operation.
Shaft-to-Shaft Connections:
In many mechanical systems, such as those in the manufacturing, automation, and power transmission industries, shaft-to-shaft connections are required. A flexible coupling can bridge the gap between two shafts and transmit torque while accommodating misalignment. This type of coupling is commonly used to connect shafts that are not perfectly aligned due to factors like manufacturing tolerances, thermal expansion, or foundation settling. By allowing for misalignment, the flexible coupling protects the connected components from excessive stresses and ensures efficient power transmission.
Versatility and Advantages:
The ability of flexible couplings to handle both motor-to-shaft and shaft-to-shaft connections makes them versatile solutions for a wide range of industrial applications. Some of the advantages of using flexible couplings in these connections include:
Minimizing stress and wear on connected components, such as bearings and seals.
Compensating for misalignment, ensuring smooth power transmission.
Damping vibrations and shock loads, reducing the risk of mechanical failures.
Protecting equipment from excessive forces, enhancing system reliability.
Simplifying installation and alignment procedures, reducing downtime.
Improving overall system performance and operational efficiency.
Applications:
Flexible couplings find applications in a wide range of industries, including manufacturing, material handling, automotive, aerospace, robotics, and more. Whether connecting a motor to a shaft or joining two shafts directly, flexible couplings play a crucial role in enhancing the reliability and efficiency of rotating machinery and mechanical systems.
In conclusion, flexible couplings can effectively serve as connectors for both motor-to-shaft and shaft-to-shaft connections, providing essential misalignment compensation and protection for connected equipment in various industrial applications.



editor by CX 2023-09-21