Product Description
SDSX Grooved Rigid Coupling
Systems & Performance
SDSX Grooved mechanical couplings(GMC) are available in both rigid and flexible models.
A rigid coupling is used in applications where a rigid joint is desired,similar to that of a traditional flanged,welded ,or threaded connection.
To be considered rigid,a coupling would allow less than 1 degree of deflection or angular movement
Description
SDSX rigid coupling is designed from 1″-12″, and pressure is 300psi/2070 kPa.
Bolts/Nuts: Heat-treated plated carbon steel, meeting its mechanical properties Grade 8.8.
Gaskets: EPDM, silicon rubber and Nitrile rubber.
Dimensions
 
Nominal
Size mm/in
Pipe O.D
mm/in
Working
Pressure
PSI/MPa
Bolt Size
Dimensions mm/in
No.-Size   mm
Ø
L
H
25
1
33.7
1.327
300
2.07
2-3/8*45
60   
2.362
102 
4.016
45 
1.772
32
1¼
42.4
1.669
300
2.07
2-3/8*45
70 
2.756
106 
4.173
44 
1.732
40
1½
48.3
1.900
300
2.07
2-3/8*45
73 
2.874
108 
4.252
44 
1.732
50
2
57.0
2.245
300
2.07
2-3/8*55
83
3.268
122 
4.803
45 
1.772
50
2
60.3
2.375
300
2.07
2-3/8*55
87
3.425
123 
4.843
44 
1.732
65
2½
73.0
2.875
300
2.07
2-3/8*55
100 
3.937
138 
5.433
44 
1.732
65
2½
76.1
3.000
300
2.07
2-3/8*55
103 
4.055
142 
5.591
45 
1.772
80
3
88.9
3.500
300
2.07
2- 1/2*60
117 
4.606
166 
6.535
45 
1.772
100
4
108.0
4.250
300
2.07
2- 1/2*65
137 
5.393
188 
7.401
48 
1.889
100
4
114.3
4.500
300
2.07
2- 1/2*65
139 
5.472
190 
7.480
49 
1.929
125
5
133.0
5.250
300
2.07
2- 1/2*75
163 
6.417
210 
8.268
49 
1.929
125
5
139.7
5.500
300
2.07
2- 1/2*75
168 
6.614
218 
8.583
49 
1.929
150
6
159.0
6.250
300
2.07
2- 1/2*75
192 
7.559
242 
9.528
49 
1.929
150
6
165.1
6.500
300
2.07
2- 1/2*75
193 
7.598
241 
9.488
49 
1.929
150
6
168.3
6.625
300
2.07
2- 1/2*75
198.5 
7.815
249 
9.803
50
1.969
200
8
219.1
8.625
300
2.07
2-5/8*85
253 
9.961
320 
12.598
59
2.323
250
10
273
10.748
300
2.07
2-7/8*130
335 
13.189
426 
16.772
68
2.677
300
12
323.9
12.752
300
2.07
2-7/8*130
380 
14.96
470 
18.504
65
2.559
Material Specification
Housing: Ductile iron conforming to ASTM A-536, grade 65-45-12.
Housing Coating: Paint red and orange
• Optional: Hot dipped galvanized, electro galvanized.
Gaskets
• EPDM: Temperature range -34ºC to +150ºC. Recommended for hot water service within
the specified temperature range plus a variety of dilute acids,oil-free air and many chemical services.
 
NOT RECOMMENDED FOR PETROLEUM SERVICES.
• Silicon Rubber: Temperature range -40ºC to +177ºC. Recommended for drinking water,
hot water, high-temperature air and some high-temperature chemicals.
NOT RECOMMENDED FOR PETROLEUM SERVICES.
• Nitrile Rubber: Temperature range -29ºC to +82ºC. Recommended for petroleum products,
air with oil vapors, vegetable and mineral oils within the specified temperature range.
NOT RECOMMENDED FOR HOT WATER
SERVICES OVER +150°F/+66ºC OR FOR HOT
DRY AIR OVER +140°F/+60ºC.
Installation
Certification


Showroom
Application
Package and shipment
Production and quality control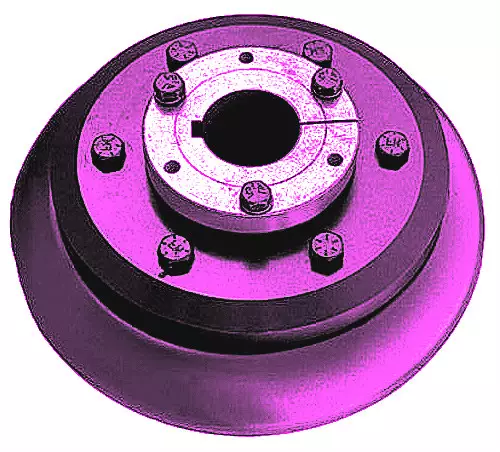 How do flexible couplings handle axial movement in rotating machinery?
Flexible couplings are designed to handle different types of misalignments in rotating machinery, including axial movement or axial misalignment. Axial movement occurs when there is displacement along the axis of rotation, causing one shaft to move closer to or away from the other shaft. Here's how flexible couplings handle axial movement:
Sliding Capability: Many flexible couplings, especially those with elastomeric elements or certain designs, can slide along the shafts they connect. This sliding capability allows the coupling to accommodate axial movement without introducing additional stress on the connected components. The elastomeric elements can compress or stretch slightly to absorb the axial displacement.
Multiple-piece Designs: Some flexible couplings consist of multiple pieces, which allow for axial movement. These designs often have a floating member or a spacer that separates the two shaft-connected components. The floating member can move axially as needed, while still transmitting torque and compensating for other misalignments.
Double-Cardanic Design: Certain high-performance flexible couplings use a double-cardanic design, allowing for misalignment in multiple directions, including axial movement. This design features two sets of flexible elements that work together to accommodate different misalignments and provide a high degree of flexibility.
It's important to note that while flexible couplings can handle a certain degree of axial movement, excessive axial misalignment might require a different type of coupling or additional measures to be addressed properly.
During the selection and installation process, it's essential to consider the application's axial movement requirements and choose a flexible coupling that can accommodate the expected axial displacement while still providing the desired performance, such as vibration damping, shock absorption, or precision motion control.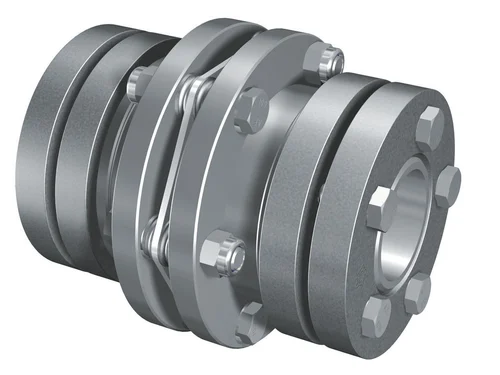 What are the common signs of wear and failure in flexible couplings?
Flexible couplings can experience wear and failure over time, which may lead to operational issues and potential equipment damage. Some common signs of wear and failure in flexible couplings include:
Excessive Vibrations: An increase in vibrations during operation can indicate wear or misalignment in the flexible coupling. Excessive vibrations can also lead to additional wear on connected equipment.
Strange Noises: Unusual noises, such as squealing, rattling, or clunking sounds, may indicate misalignment, fatigue, or damaged elements in the flexible coupling.
Increased Heat: If a flexible coupling is operating at a higher temperature than usual, it could indicate increased friction due to wear or improper lubrication.
Visible Damage: Physical inspection may reveal visible signs of wear, such as cracks, tears, or distortion in the flexible coupling's components.
Reduced Performance: A decrease in the performance of the connected machinery, such as lower speed or torque transmission, may be a sign of coupling wear.
Looseness or Play: Excessive play or looseness in the coupling may indicate worn or damaged components, which can lead to misalignment and decreased efficiency.
Leakage: In the case of fluid-filled couplings, leakage of the fluid can indicate seal damage or wear in the coupling.
Cracks or Corrosion: Cracks or signs of corrosion on metallic components of the coupling can indicate material fatigue or exposure to harsh environmental conditions.
Uneven Wear: Uneven wear patterns on coupling elements or unusual wear at specific points can be indicative of misalignment or excessive torque.
Increased Friction: If the flexible coupling starts to exhibit increased resistance or friction during operation, it may be a sign of wear or inadequate lubrication.
Regular maintenance and inspection are essential to identify these signs of wear and failure early on and prevent further damage to the flexible coupling and connected equipment. Timely replacement or repair of worn or damaged components can help maintain the reliability and efficiency of the system.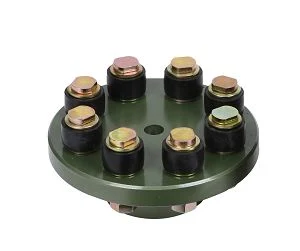 What are the maintenance requirements for flexible couplings?
Maintenance of flexible couplings is essential to ensure their reliable and efficient performance over their service life. Proper maintenance helps prevent premature wear, reduces the risk of unexpected failures, and extends the lifespan of the couplings. Here are some key maintenance requirements for flexible couplings:
Regular Inspection: Perform regular visual inspections of the flexible couplings to check for signs of wear, damage, or misalignment. Look for cracks, tears, or any other visible issues in the coupling components.
Lubrication: Some flexible couplings, especially those with moving parts or sliding surfaces, may require periodic lubrication. Follow the manufacturer's recommendations regarding the type and frequency of lubrication to ensure smooth operation.
Alignment Checks: Misalignment is a common cause of coupling failure. Regularly check the alignment of the connected shafts and adjust as necessary. Proper alignment reduces stress on the coupling and improves power transmission efficiency.
Torque Monitoring: Monitoring the torque transmitted through the coupling can help detect any abnormal or excessive loads. If the coupling is subjected to loads beyond its rated capacity, it may lead to premature failure.
Environmental Protection: If the couplings are exposed to harsh environmental conditions, take measures to protect them from dust, dirt, moisture, and corrosive substances. Consider using protective covers or seals to shield the couplings from potential contaminants.
Temperature Considerations: Ensure that the operating temperature of the flexible coupling is within its designed range. Excessive heat can accelerate wear, while extremely low temperatures may affect the flexibility of certain coupling materials.
Replace Worn or Damaged Parts: If any components of the flexible coupling show signs of wear or damage, replace them promptly with genuine replacement parts from the manufacturer.
Manufacturer's Guidelines: Follow the maintenance guidelines provided by the coupling manufacturer. They often include specific maintenance intervals and procedures tailored to the coupling's design and materials.
Training and Expertise: Ensure that maintenance personnel have the necessary training and expertise to inspect and maintain the flexible couplings properly. Improper maintenance practices can lead to further issues and compromise the coupling's performance.
By adhering to these maintenance requirements, you can maximize the service life of the flexible couplings and minimize the risk of unexpected downtime or costly repairs. Regular maintenance helps maintain the efficiency and reliability of the coupling in various industrial, automotive, and machinery applications.



editor by CX 2023-09-13